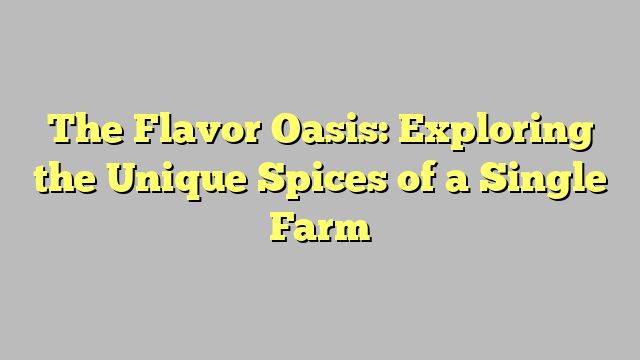 The Flavor Oasis: Exploring the Unique Spices of a Single Farm
Read Time:
5 Minute, 33 Second
As we take a sip of that perfectly spiced masala chai or indulge in the creamy goodness of a chai latte, we rarely stop to ponder the origins of those tantalizing flavors. But what if I told you there is a place where every spice is grown and nurtured with utmost care, resulting in a taste sensation like no other? Welcome to the flavor oasis of a single farm, where the company "Yaksha" embarks on a remarkable global journey to discover and bring us the rarest spices imaginable.
Yaksha understands that true culinary magic lies in the authenticity of flavors, and they have made it their mission to seek out the most exotic and unparalleled spices from a carefully selected farm. By harnessing the latest crop harvests and cultivating these spices naturally, Yaksha captivates the senses of culinary enthusiasts who crave nothing but the finest taste experiences. With an unwavering commitment to ethical farming practices, Yaksha ensures not only incredible flavors but also promotes sustainability and respect for the environment.
So join us as we unlock the secrets of this extraordinary spice farm, indulging your palates in an unforgettable journey of diverse flavors and discovery. From the comforting warmth of masala chai to the creamy indulgence of a chai latte, Yaksha spices bring a touch of magic to every culinary creation. Get ready to immerse yourself in a world where authenticity and passion blend seamlessly, where each spice carries with it a story of its own. Let Yaksha take you on a gastronomic adventure like no other, as we delve into the depths of this flavor oasis and savor the unique taste of spices that truly embody the essence of nature's bounty.
The Farm: A Glimpse into Yaksha's Ethical Spice Cultivation
At the heart of Yaksha's enchanting range of spices lies their commitment to ethical cultivation practices, ensuring that every spice is not just flavorsome but also environmentally and socially responsible. Nestled in the serene countryside, the single farm where Yaksha's spices are harvested is a testament to the company's dedication to preserving authenticity and sustainability.
When you sip on a warm cup of masala chai or indulge in a velvety chai latte, you are embracing the magic that unfolds on this farm. Yaksha's partnership with the farm allows them to source the freshest ingredients, ensuring that every spice blend is a work of art. From the vibrant colors to the captivating aromas, each spice created at this farm carries a story of its own.
What sets Yaksha apart is their unwavering commitment to cultivating spices naturally, without the use of harmful chemicals or pesticides. By embracing traditional and organic farming techniques, they ensure that the spices not only taste incredible but are also free from any unwanted additives. This ethical approach not only benefits the consumers but also preserves the land and the livelihoods of the farmers, creating a harmonious ecosystem.
Through their global journey to discover rare spices, Yaksha aims to introduce culinary enthusiasts to an authentic and sustainable flavor oasis. The farm they have chosen serves as the foundation for this extraordinary exploration, where every spice is lovingly cultivated, harvested, and processed to ignite your taste buds and transport you to a world of unparalleled dining experiences.
Rare Spices Unveiled: A Global Journey of Discovery
Embarking on a global quest to uncover extraordinary flavors, Yaksha, a renowned company, sets its sights on a single farm. This unique endeavor takes them on a captivating journey across continents in search of the rarest spices known to man.
Harvested from the latest crops and cultivated with a steadfast commitment to ethical practices, Yaksha's spices hold a magnetic allure for culinary enthusiasts seeking an authentic and enriching experience. From the vibrant aromas of masala chai to the indulgent creaminess of a chai latte, these spices awaken the senses and transport you to a flavor paradise.
As the Yaksha team explores the corners of the globe, each spice they encounter tells a story. With an artisanal approach to production, each step of the cultivation process is meticulously crafted to bring out the true essence and purity of the spices. The result? A symphony of flavors that dance on your palate and leave a lasting impression.
With a dedication to sourcing directly from a single farm, Yaksha ensures that every spice can be traced back to its origin. This commitment allows them to intimately understand the journey of each spice, from the farm's nurturing soil to the hands that carefully pluck and process the delicate leaves, seeds, and pods.
Join Yaksha on their expedition as they unravel the mysteries of spices and offer culinary enthusiasts an opportunity to savor the fruits of their labor. Explore the bountiful offerings of Yaksha's handpicked spices and embark on your own personal journey of flavor discovery. Let the rare spices from a single farm transport you to an enchanting world, where every bite is an exquisite experience.
Masala Chai
Captivating Culinary Experiences: Authentic Flavors of Yaksha Spices
Step into the world of Yaksha spices and discover an enchanting array of authentic flavors that are sure to captivate the culinary enthusiast. Sourced from a single farm, these spices are a testament to the dedication and passion of Yaksha's commitment to quality and ethical farming practices.
When it comes to experiencing the true essence of masala chai, there is nothing quite like the flavors of Yaksha spices. Carefully harvested from the latest crops, these spices carry a unique depth and complexity that elevates the beloved chai latte to new heights. With Yaksha's spices, the rich and aromatic blend of cardamom, cinnamon, ginger, and cloves creates a symphony of flavors that dance on your taste buds, leaving you craving for more.
Embarking on a global journey to discover rare spices, Yaksha has set itself apart as a company that not only values flavor but also showcases the beauty of sustainable agriculture. Cultivated naturally with an ethical approach, each spice from Yaksha tells a story of mindful farming practices and respect for nature. The result is an exceptional collection of spices that not only nourish the palate but also support a more sustainable and responsible food culture.
For culinary enthusiasts seeking a truly authentic flavor experience, Yaksha spices are a dream come true. From the aromatic notes of Indian spices to the subtle complexities of rare herbs, their range of flavors invites you to embark on a culinary adventure like no other. With Yaksha, it's not just a spice; it's an opportunity to indulge in the rich tapestry of flavors that nature has to offer, all while supporting a company that is dedicated to making a positive impact on both taste and environment.