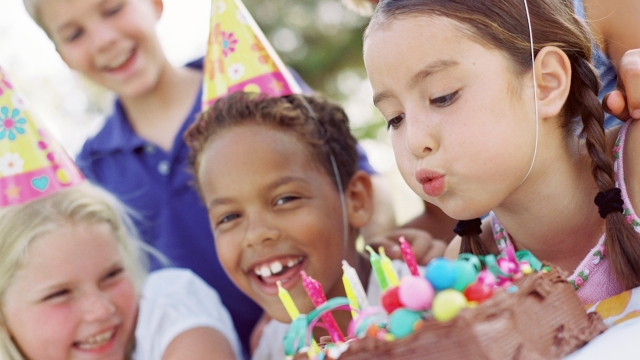 Party Perfection: Unleashing the Magic of Kids' Celebrations!
Read Time:
5 Minute, 32 Second
Planning a kids' party can be a truly exhilarating experience. As parents, we are granted the unique opportunity to unleash our creativity and create a memorable celebration that will be cherished by our little ones for years to come. From the moment the invitations are sent out, anticipation builds, excitement fills the air, and imaginations run wild with endless possibilities.
One key element that breathes life into any kids' party is the whimsical presence of balloons. Whether it's a Winnie the Pooh party or any other theme you can dream up, balloons have a magical way of instantly transforming a space into a wonderland of joy and charm. From vibrant hues of red, yellow, and blue, to an assortment of character shapes, balloons effortlessly captivate the young hearts and imaginations of party-goers. The colorful spheres dance above, eagerly inviting children to reach out and touch the enchantment that floats above them.
Kids' parties are a time-honored tradition that brings together little ones to celebrate life's precious milestones. These jubilant gatherings offer a chance for children to revel in the company of friends, indulge their sweet tooth with delectable treats, and partake in games and activities that ignite their playful spirits. Candle-lit cakes, melodic laughter, and the resounding chorus of "Happy Birthday" resonate through the room, leaving behind cherished memories that will forever hold a special place in their hearts.
As parents, we are entrusted with the task of crafting a party that captures the essence of childhood wonder and unleashes the magic that lies within our little ones. Whether it's through the enchanting allure of balloons or the heartfelt joy that permeates every aspect of the celebration, every detail counts. So let your creativity soar, embrace the whimsy, and watch as the party unfurls into a truly unforgettable experience for your child and their cherished guests.
Winnie the Pooh Decorations
Choosing the Perfect Balloons for a Winnie the Pooh Party
When it comes to throwing a memorable Winnie the Pooh party, selecting the perfect balloons is essential. Balloons have the power to add a touch of magic and create a fun atmosphere for the little ones. To ensure that your party decorations are on point, here are some tips for choosing the ideal balloons.
Firstly, consider the color palette of the beloved Winnie the Pooh characters. Classic primary colors such as red, yellow, and blue are prominent throughout the adventures of Pooh and his friends. Opting for balloons in these vibrant hues will instantly bring the party to life and captivate the imaginations of the children.
In addition to the primary colors, incorporating pastel shades can further enhance the whimsical vibe of a Winnie the Pooh party. Balloons in soft pinks, greens, and purples can represent the enchanting world of Hundred Acre Wood and add an extra touch of sweetness to the celebration.
Lastly, don't forget about the character-themed balloons! Look for balloons featuring Winnie the Pooh, Piglet, Tigger, Eeyore, and other beloved characters from the series. These balloons will not only delight the little ones but also serve as fantastic photo props for capturing precious memories.
Remember, choosing the perfect balloons for a Winnie the Pooh party is all about creating an enchanting ambiance that transports everyone into the magical world of childhood wonder. By selecting a combination of vibrant primary colors, pastel shades, and character-themed balloons, you'll be well on your way to throwing a delightful celebration that the kids will never forget.
Creating a Magical Atmosphere with Balloons
Balloons have the amazing ability to transform any space into a whimsical wonderland, making them an absolute must-have for a Winnie the Pooh party or any kids' celebration. These colorful inflatable decorations instantly inject an element of fun and excitement, captivating the imaginations of little ones and adults alike.
When it comes to a Winnie the Pooh-themed party, there is no shortage of options to incorporate balloons creatively. Start by selecting balloons in colors that evoke the charm and warmth of the Hundred Acre Wood. Think honey gold, leafy green, and sky blue, mirroring the tones found in the beloved stories.
To truly unleash the magic of balloons, consider creating balloon arches in the shape of Pooh's honey pot or the iconic entrance to the Hundred Acre Wood. These larger-than-life backdrops not only serve as stunning photo opportunities but also set the scene for an enchanting adventure.
Don't forget to sprinkle smaller balloons strategically throughout the party area. Attach them to chairs, tie them to gift bags, or scatter them around the room to create an atmosphere bursting with joy and playful energy. The sight of these floating gems will have children's eyes light up with excitement and wonder.
In the next section, we will explore how to bring the joy and imagination of a Winnie the Pooh party to life through themed activities and games. Stay tuned for more inspiration on making your kids' celebration an unforgettable experience they'll cherish for years to come!
Tips for Throwing Unforgettable Kids' Parties
Planning a kids' party can be both exciting and challenging. To ensure a truly memorable celebration, here are some valuable tips to keep in mind.


Theme it up!


Choosing a fun and engaging theme is essential when organizing a kids' party. From superheroes to princesses, there are countless themes to spark their imagination. Consider their favorite characters, hobbies, or interests when deciding on the perfect theme. For instance, for a Winnie the Pooh party, adorn the venue with adorable balloons featuring Winnie the Pooh and his friends. This will instantly create a magical atmosphere that the little ones will love.


Interactive entertainment


Kids love to be engaged and entertained, so make sure to incorporate interactive activities into the party. Organize games, treasure hunts, or even hire a professional entertainer like a magician or a clown. These interactive elements will keep the children entertained while adding an extra layer of excitement to the celebration. Remember, the key is to keep them involved and active throughout the party.


Cater to their taste buds


Food is always a highlight of any party, so be sure to cater to the kids' taste buds. Offer a variety of finger foods, snacks, and sweet treats that are both delicious and visually appealing. Consider themed snacks, such as honey sandwiches and "hunny" pots for a Winnie the Pooh party. Don't forget to check for any allergies or dietary restrictions among the guests to ensure everyone can enjoy the tasty treats.
By following these tips, you can create an unforgettable kids' party that will leave lasting memories for both the children and their parents.