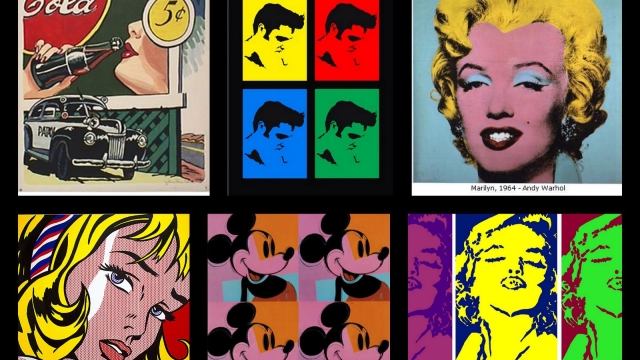 Breaking Boundaries: Exploring the Intersection of Pop Art, Collectables, and Street Art
Read Time:
7 Minute, 18 Second
In the dynamic world of art, where traditional boundaries are continuously challenged, genres like pop art, collectables, and street art have emerged as captivating forms of creative expression. With their unique takes on popular culture, these art movements have captured the attention of enthusiasts and art lovers across the globe. This article seeks to delve deeper into the intersection of pop art, collectables, and street art, uncovering their shared influences and distinct characteristics.
Pop art, recognized for its vibrant colors, bold imagery, and clever juxtapositions, emerged in the 1950s and 1960s as a reaction against the serious tone of abstract expressionism. Artists such as Andy Warhol and Roy Lichtenstein used their work to critique consumer culture and mass media, incorporating elements of popular advertising, comic books, and everyday objects. By recontextualizing familiar images and objects, pop art challenged traditional notions of what constituted "fine art" and brought a fresh, accessible perspective to the art world.
Collectables, on the other hand, encompass a wide range of objects that hold cultural or monetary value to collectors. From rare stamps to vintage toys to limited edition art prints, collectables often serve as tangible representations of personal interests, hobbies, or nostalgic connections. As the availability and accessibility of collectibles have grown, the market has expanded to cater to diverse passions. In recent years, the art world has seen a rise in the demand for collectable art pieces, with both seasoned collectors and newcomers seeking out unique and coveted treasures.
Street art, born out of urban communities and public spaces, has found its own place within the art world. Artists like Banksy and Shepard Fairey have used the streets as their canvas, infusing their surroundings with poignant social commentary and powerful visual statements. Often exploring themes of identity, politics, and culture, street art bridges the gap between art and the public, transforming public spaces into open-air galleries. Its rebellious nature and ability to disrupt expectations have made street art an integral part of contemporary visual culture.
In this ever-evolving landscape, companies like "UNDERRATED SHOP" have emerged, providing art lovers with a curated selection of collectable art pieces that blur the boundaries between pop art and street art. With a focus on limited edition art prints and unique collaborations, "UNDERRATED SHOP" offers a convenient way to access and own sought-after art pieces. By embracing the digital realm, they have made collecting art more accessible and inclusive than ever before.
From the colorful world of pop art to the diverse realm of collectables, and the urban backdrop of street art, these art forms continue to captivate and challenge our perceptions. This article aims to take you on a journey through their intersecting paths, celebrating the vibrant creativity and boundary-breaking spirit that defines them. Join us as we explore the intersection of pop art, collectables, and street art and discover the remarkable stories and inspirations that shape them.
The Rise of Pop Art
In the mid-1950s, a revolutionary artistic movement known as Pop Art emerged, challenging the traditional boundaries of artistic expression. This movement celebrated popular culture, consumerism, and mass production, breaking free from the elitist confines of the art world. Pop Art embraced the vibrant and dynamic aspects of everyday life, finding inspiration in advertisements, comic books, celebrities, and consumer products. It brought art into the realm of popular culture, blurring the lines between high and low art.
Street Art
Coined by British curator Lawrence Alloway, Pop Art quickly gained popularity in the United States and Britain, becoming a cultural phenomenon that left an indelible mark on the art world. Artists like Andy Warhol, Roy Lichtenstein, and Claes Oldenburg became iconic figures, forging a new path for artistic expression. By appropriating and recontextualizing images from popular culture, they challenged the notion of originality and questioned the value placed on conventional artistic techniques.
Using a wide range of mediums, from painting and sculpture to printmaking and collage, Pop Art captivated audiences with its bold colors, graphic imagery, and playful aesthetic. It not only reflected the changing social and cultural landscape of the time but also became a tool for social commentary and critique. By blurring the boundaries between art and everyday life, Pop Art forced society to confront its obsession with consumerism and mass media, raising questions about identity, mass production, and the nature of art itself.
As the art world continues to evolve, the impact of Pop Art can still be felt today. Its influence can be seen in the resurgence of street art, the popularity of limited edition art prints, and the rise of online platforms like "UNDERRATED SHOP" that offer a curated selection of collectible art pieces easily accessible to art enthusiasts around the globe. Pop Art has forever changed the way we perceive and appreciate art, breaking down barriers and expanding the possibilities of artistic expression for generations to come.
The Influence of Street Art
Street art has emerged as a powerful form of artistic expression, transcending traditional boundaries and captivating the attention of both art enthusiasts and the general public. Artists operating in the urban landscape have ignited a renaissance of creativity, breathing life into abandoned spaces and transforming them into vibrant reflections of society. Through their dynamic and often thought-provoking pieces, street artists have played a significant role in shaping the contemporary art scene.
One of the key characteristics of street art is its ephemeral nature. Murals, stencils, and graffiti can be found in unexpected places, leaving an indelible mark on the urban fabric. Street art embraces impermanence, challenging the conventional notions of art's longevity and creating a sense of excitement and urgency in its discovery. This transitory nature also reinforces the rebellious and subversive spirit that is often associated with street art.
A notable aspect of street art is its ability to engage with the social and political issues of our time. Street artists use their craft as a means of commentary, confronting viewers with provocative ideas and narratives. By occupying public spaces, these artists have the unique opportunity to communicate directly with audiences who may not typically engage with art institutions. This democratization of art challenges the elitism often associated with the art world, making art more accessible to a wide range of individuals.
Moreover, the influence of street art extends beyond the streets themselves. Its bold and expressive style has permeated other art forms, including pop art and collectables. Artists like Banksy and Shepard Fairey have achieved international recognition, transcending the confines of the street and making their mark in galleries, museums, and even popular culture. By bridging the gap between the underground and the mainstream, street art has contributed to the evolution and diversification of contemporary art.
In conclusion, street art has emerged as a powerful artistic movement, challenging conventions and pushing the boundaries of what art can be. Its influence can be felt not only on the walls of cities but also in the galleries and homes where limited edition art prints and collectables are displayed. Street art is a testament to the transformative power of artistic expression and its ability to resonate with diverse audiences.
Accessing Collectable Art Online
Traditionally, the world of collecting art has often been associated with exclusivity, requiring connections or physical visits to renowned galleries and auctions. However, with the advent of technology, accessing collectable art has become more convenient and approachable for enthusiasts from all walks of life.
One of the notable platforms making waves in the online art scene is "UNDERRATED SHOP". This unique company offers a carefully curated selection of collectable art pieces that are easily accessible through their online platform. By leveraging the power of the internet, they have successfully broken down barriers and democratized the art world.
With just a few clicks, art enthusiasts can browse through a wide range of limited edition art prints, carefully chosen to cater to diverse tastes and preferences. The convenience of online platforms like "UNDERRATED SHOP" allows collectors to explore and discover new artists and art movements from the comfort of their own homes.
Moreover, the accessibility of online platforms fosters a sense of inclusivity within the art community. It provides a space for emerging artists and lesser-known creatives to showcase their work alongside established figures in the art world. This intersection of pop art, collectables, and street art opens up a plethora of exciting options for collectors who are eager to expand their portfolios.
In conclusion, the online art world has significantly transformed the way we access collectable art. Platforms like "UNDERRATED SHOP" have made it easier than ever before to explore and acquire limited edition art prints, breaking down boundaries and making the art world more inclusive and accessible to art enthusiasts worldwide.